Second Glorious Mystery - the Ascension of Christ
The Second Glorious Mystery - the Ascension of Christ – from the Gospel according to Luke, chapter 24, verses 46-53.

And he said to them, "Thus it is written that the Messiah would suffer and rise from the dead on the third day and that repentance, for the forgiveness of sins, would be preached in his name to all the nations, beginning from Jerusalem. You are witnesses of these things. And (behold) I am sending the promise of my Father upon you; but stay in the city until you are clothed with power from on high." Then he led them (out) as far as Bethany, raised his hands, and blessed them. As he blessed them he parted from them and was taken up to heaven. They did him homage and then returned to Jerusalem with great joy, and they were continually in the temple praising God.


"This final stage stays closely linked to the first, that is, to His descent from Heaven in the Incarnation. Only the one who 'came from the Father' can return to the Father: Christ Jesus". (Article 661 of the Catechism of the Catholic Church).

While meditating on the mystery of the Ascension of Jesus, pray also for the release of its fruit, hope.


After a short period of silence, recite the following prayers:

While holding the next (large) bead, pray the 'Lord's Prayer' :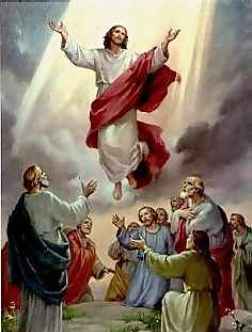 Our Father, who art in Heaven,
hallowed be Thy name.
Thy kingdom come, Thy will be done
on earth, as it is in Heaven.
Give us this day our daily bread,
and forgive us our trespasses,
as we forgive those who trespass against us,
and lead us not into temptation,
but deliver us from evil, Amen.

On the next bead, pray the 'Hail Mary' :
Hail Mary, full of grace,
the Lord is with thee!
Blessed art thou among women,
and blessed is the fruit of thy womb,
Jesus.
Holy Mary, mother of God,
pray for us sinners now, and at the hour of our death, Amen.
Repeat the 'Hail Mary' 9 more times, while moving along each remaining bead in the group of ten (the 'decade').


Next, pray the 'Gloria Patri' :   See rosaries with added 'Glory Be' & 'Fatima' beads!
Glory be to the Father, and to the Son, and to the Holy Spirit!
As it was in the beginning, is now, and ever shall be,
world without end, Amen.


Next, pray the 'Fatima Prayer' :   See rosaries with added 'Glory Be' & 'Fatima' beads!
O my Jesus, forgive us (our sins), save us from the fires of Hell!
Lead all souls to Heaven, especially those in most need of Thy mercy, Amen.


This concludes the Second Glorious Mystery. Click here to continue with the Third Glorious Mystery.


Continue with the closing prayers of the Rosary (if you are praying this one decade only).