The First 5 Saturdays of Reparation
The Devotion of the First 5 Saturdays of
Reparation to the Immaculate Heart of Mary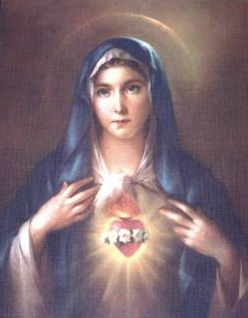 On December 10, 1925, the Most Holy Virgin appeared to Sr. Lucia dos Santos - one of the three visionary children of Fatima - while she was in her convent in Pontevedra, Spain. Our Blessed Mother said:
"...I promise to assist at the hour of death, with the graces necessary for salvation, all those who, on the first Saturday of five consecutive months, shall confess, receive Holy Communion, recite five decades of the Rosary, and keep me company for fifteen minutes while meditating on the fifteen Mysteries of the Rosary, with the intention of making reparation to me."
Our Lord also told Sr. Lucia that this Confession may take place anytime during the eight days before or after the First Saturday. Furthermore, He stated "It could be longer still, provided that, when they receive Me, they are in the state of grace, and have the intention of making reparation to the Immaculate Heart of Mary."