Rosary Novena
The Rosary Novena, also known as the 'Irresistible Novena', "consists of reciting five decades of the Rosary each day for 27 days in petition; then immediately five decades each day for 27 days in thanksgiving, whether or not the request has been granted.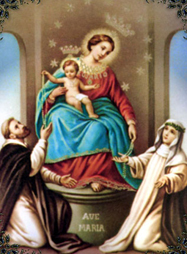 History and Promise:
  The novena originated when Fortuna Agrelli,
  a girl of Naples, had suffered intense pain for
  13 months. On February 16, 1884, she and
  her relatives began a novena of Rosaries for
  her recovery. Sitting on a high throne with
  the Infant Jesus on her lap, the Blessed
  Mother appeared to Fortuna on March 3.
  She held a Rosary in her hand and was
  accompanied by St. Dominic and
  St. Catherine of Siena.
  Fortuna petitioned Our Lady, "Queen of the
  Holy Rosary, be gracious to me, restore me
  to health..."
The Blessed Virgin replied,
"...You have invoked me by various titles and have always obtained favors from me. Now, since you have called me by the title so pleasing to me, 'Queen of the Holy Rosary', I can no longer refuse the favor that you petition; for this name is most precious and dear to me. Make three novenas, and you will obtain all."
After Fortuna was cured, Our Lady appeared again. This time she said,
"Whosoever desires to obtain favors from me should make three novenas of the prayers of the Rosary in petition and three novenas in thanksgiving."
The miracle is said to have made a very deep impression on Pope Leo XIII, who urged all Christians to love the Rosary and say it fervently."
(This information on the Rosary Novena is quoted from Prayers and Heavenly Promises - Compiled from Approved Sources (p.82), by Joan Carroll Cruz.)