To Begin the Sorrowful Rosary


      For an optional video presentation of the
      beginning of the Sorrowful Rosary and its first
      Mystery, scroll to the bottom of this page.



The Church prays the 5 Sorrowful Mysteries on TUESDAYS and FRIDAYS (and the SUNDAYS during Lent). They are the:

Agony.....of Jesus the night before His death

Scourging.....of Jesus

Crowning.....of Jesus with Thorns

Cross.....carried by Jesus

Crucifixion.....of Jesus


To begin the Sorrowful Rosary, hold the rosary's crucifix/cross, and with it make the SIGN OF THE CROSS on yourself, saying:
In the name of the Father, and of the Son, and of the Holy Spirit, Amen.

While still holding the crucifix/cross, pray the 'Apostle's Creed' :
I believe in God, the Father Almighty, Creator of Heaven and earth.

I believe in Jesus Christ, His only Son, our Lord.
He was conceived by the power of the Holy Spirit, born of the Virgin Mary, was crucified, died, and was buried. He descended to the dead. On the third day He rose again; He ascended into Heaven, and is seated at the right hand of the Father. He will come again to judge the living and the dead.

I believe in the Holy Spirit, the holy Catholic Church, the Communion of Saints, the forgiveness of sins, the resurrection of the body, and life everlasting, Amen.

Moving to the 1st bead next to the crucifix/cross, pray the 'Lord's Prayer' :
Our Father who art in Heaven, hallowed be Thy name.
Thy kingdom come, Thy will be done, on earth as it is in Heaven.
Give us this day, our daily bread,
and forgive us our trespasses, as we forgive those who trespass against us,
and lead us not into temptation, but deliver us from evil, Amen

Moving to the next bead - 1st in the group of 3 - pray the 'Hail Mary' for an increase in the virtue of FAITH:
Hail Mary, full of grace, the Lord is with Thee.
Blessed art thou among women
and blessed is the fruit of Thy womb,
Jesus.
Holy Mary, Mother of God, pray for us sinners now,
and at the hour of our death, Amen

Moving to the next bead - 2nd in the group of 3 - pray the 'Hail Mary' for an increase in the virtue of HOPE:
Hail Mary, full of grace, the Lord is with Thee.
Blessed art thou among women
and blessed is the fruit of Thy womb,
Jesus.
Holy Mary, Mother of God, pray for us sinners now,
and at the hour of our death, Amen

Moving to the next bead - 3rd in the group of 3 - pray the 'Hail Mary' for an increase in the virtue of CHARITY (brotherly LOVE):
Hail Mary, full of grace, the Lord is with Thee.
Blessed art thou among women
and blessed is the fruit of Thy womb,
Jesus.
Holy Mary, Mother of God, pray for us sinners now,
and at the hour of our death, Amen

Next, pray the 'Glory Be':
Glory be to the Father, and to the Son, and to the Holy Spirit,
as it was in the beginning, is now, and ever shall be,
World without end, Amen.


See rosaries with added 'Glory Be' beads!


This concludes how to begin the Sorrowful Rosary. Now you may proceed to:

the First Mystery of the Sorrowful Rosary.

start of this online rosary (all Mysteries are accessible by day of the week)
Optional Video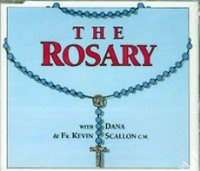 The video below pairs classical art
   images, with an audio track from "The
   Rosary"
CD/tape
by Dana and Father
   Kevin Scallon (pictured left).  A
   prayerful recitation of the first part of
   the Rosary precedes a brief meditation
   on the First Sorrowful Mystery, the Agony
   in the Garden, then the recited decade
   of prayers. It is accompanied by
   beautiful music and song!
To play the
    video below, click on it twice.
Sorrowful Mysteries
Sorrowful Mysteries
Sorrowful Mysteries, Sorrowful Mysteries, Sorrowful Mysteries, Sorrowful Mysteries